CSRware Products
On-Demand Enterprise-Scale Products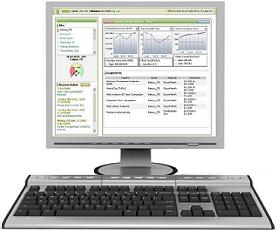 With a proven implementation methodology, CSRware can be deployed to global facilities within days. The software is flexible and a configurable service designed to meet our customer requirements. CSRware extensible architecture adapts quickly to new market demands.

CSRware offers a mature version 3.0 product in use by large enterprise customers. Our core competency is the energy, carbon and sustainability space. The software architecture is a hybrid of CLOUD computing and SaaS to provide robust and scalable performance functionality on-demand, through an intuitive, Web-browser interface.
What is CSRware Software?
It is an intuitive web-based software developed with early CSRware customers. The software is designed to adapt to the needs of our customers. With an adaptable Enterprise Sustainability Management Platform, businesses can adjust
quickly to market demand by simply turning on additional features.
CSRware offers sustainability reporting, carbon accounting, and
supply chain compliance through our two standard product offerings:
CSRware Products

• CSRware Energy & Sustainability Software

• CSRware Supply Chain Compliance Software

CSRware products give an organization a way to accurately measure and monitor environmental impacts across internal operations, and the supply chain. This powerful carbon and sustainability software allows organizations to consolidate data to create a GHG inventory, set and meet reduction goals cost-effectively, and ensure compliance with regulations for reporting or auditing purposes.
---
CSRware Software Products

CSRware Energy & Sustainability Software

With CSRware Energy & Sustainability Software, your firm will can easily track, measure and report to key stakeholders. Carbon management and sustainability are all part of the same activity, by leveraging the integrated library of key performance indicators, best practices and role-based dashboards your company can better manage your global operation from a single location.

Software Description

The software is easy-to-use and acts as an enterprise carbon accounting system for all operational data associated with energy, water, waste and emissions. Using key performance indicators and standard template to easily adhere to the Carbon Disclosure Project, the Global Reporting Initiative and other key compliance bodies, reporting and communicating actions becomes an integral part of your business process.

CSRware offers a flexible solution that is adaptable to the needs and structure of your organization, helping you meet and exceed your greenhouse gas management goals. Carbon, energy management and GHG programs are all integral to a sustainable business operation. Using an integrated software package allows the flexibility for global accountability and data management for all sustainability activities.

Solution Key Features:

Energy & Sustainability Management

• Enterprise carbon accounting and auditing capabilities
• Report energy, waste, water, and carbon emission activities to 3rd parties
• A complete industry-wide KPI's (key performance indicators) library
• Recommendations based performance rating

Green IT (a key contributor to energy & sustainability management)

• Role-based financial dashboards
• Financial analysis for CIO and management level access
• Measure against goals and benchmark data
• Integrate to 3rd party data sources
• One centralized view for global IT and data center assets

CSRware's complete energy & sustainability management package allows businesses to identify energy, water, waste, and cost reduction opportunities while minimizing exposure to risk and increasing brand value.
---
CSRware Supply Chain Compliance (SCC) Software

Conduct an automated sustainability performance rating of your supply chain. Your organization can extend your sustainable strategy to your supply chain by assessing their environmental performances and to work in partnership to establish goals and identify action plans to improve overall performance.

Software's description

The CSRware Supply Chain Compliance software uses a simple scoring technique and categorizes the performance of your suppliers to ensure lowest cost of goods purchased. Our customer's can integrate sustainability choices into their product selection process by looking at quality, sustainability score and price.
Your suppliers will be given an assessment report that can be directly used for review and actionable comments. Rate and improve your supply chain and implement a sustainable procurement solution to ensure cost effective measures are in place from your suppliers.

Building a long-term buyer supplier relationship

With CSRware Supply Chain Compliance, collaborate with suppliers on how to improve sustainability practices across the supply chain, rate sustainability performance and maintain a positive relationship by looking for cost effective ways to conduct business today and in the future.
---
Key features and benefits to your organization:
Reduce costs and improve ROI - CSRware Energy & Sustainability Software
• Build and maintain your competitive advantage using industry best practices
• Identify energy, water and waste reduction opportunities
• Improve and optimize emissions-intensive operations
• Meet carbon reduction goals quickly and cost effectively
• Take the complexity out of sustainability and carbon management
• Streamline voluntary and mandatory compliance and reporting

Reduce risks - CSRware Energy & Sustainability Software
• Identify baseline, set targets and reach cost reduction goals
• Minimize exposure to volatile energy, water and carbon prices
• Be prepared for current and future regulatory exchange markets
• Avoid inaccurate reports from external sources

Increase bottom line - CSRware Supply Chain Compliance
• Assess cost to produce products from suppliers
• Select best performer with lowest environment and financial costs
• Improve company reputation and increase brand value
• Communicate clearly and openly to increase supplier efficiency
• Purchase products with low-carbon and resource costs

CSRware is an energy & sustainability software that provides companies with the tools they need to effectively and efficiently measure environmental impact, reduce greenhouse gas (GHG) emissions, and improve financial and energy performance. CSRware delivers products for early adopters and those looking to get started.
---
For additional information on our products, please contact sales@csrware.com.